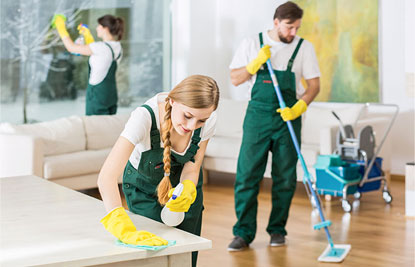 We only employee American citizens, we have passed a thorough background check, and we are bonded and insured, never contract labor. We also do not sell our contracts to other companies.
Dunn-Right pays our employees above the industry standard to help insure employee longevity. We have employees that have been employed with us for more than 16 years.
A monthly motivational bonus is given to each employee whose work passes inspection standards for that month.
Each potential employee is required to have a drug test and undergo a background check before they are hired.
The vast majority of our employees are referred by other employees which gives us better background on new employees. Our first impression of new hires comes from previous employers. The second comes from written referrals on the application who we call. The third comes from having been referred from current employees from which we get a more honest view of the potential employee.
Dunn Right's employees are thoroughly trained before being placed on any job.
Employees are trained in our "trash" policy. They do not throw away anything that isn't inside of or on top of a trash can, or plainly marked "trash". They are also trained in correct posture for picking up heavy items.
Employees are instructed on which chemicals to use on specific surfaces.
Employees know how important the security of your building is to you. They are careful to keep dorrs locked. We will not give access to anyone wanting in your building without permission from you.
Employees will report things that seem out of the ordinary or that may need your attention, i.e., plumbing issues, security issues, etc.
Contact Us
7035 S Sandusky Ave, Tulsa, Oklahoma 74136
918-230-4882
dunnrightcleaning@gmail.com